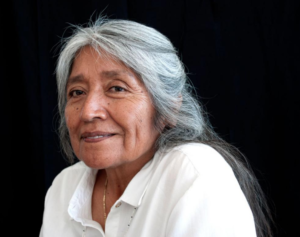 Deer Dance Exhibition – Ofelia Zepeda
Question: Can you tell us about what he is wearing?
Well, the hooves represent the deer's hooves,
the red scarf represents the flowers from which he ate,
the shawl is for skin.
The cocoons make the sound of the deer walking on leaves and grass.
Listen.
Question: What is that he is beating on?
It's a gourd drum. The drum represents the heartbeat of the deer.
Listen.
When the drum beats, it brings the deer to life.
We believe the water the drum sits in is holy. It is life.
Go ahead, touch it.
Bless yourself with it.
It is holy. You are safe now.
Question: How does the boy become a dancer?
He just knows. His mother said he had dreams when he was just a little boy.
You know how that happens. He just had it in him.
Then he started working with older men who taught him how to dance.
He has made many sacrifices for his dancing even for just a young boy.
The people concur, "Yes, you can see it in his face."
Question: What do they do with the money we throw them?
Oh, they just split it among the singers and dancer.
They will probably take the boy to McDonald's for a burger and fries.
The men will probably have a cold one.
It's hot today, you know.
Reflective writing Prompt: Write about an exhibition