Date / Time: Tuesday, January 18th – 3pm Pacific / 6pm Eastern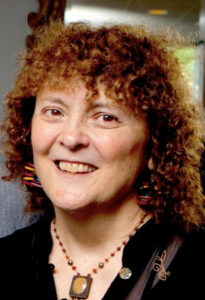 A longtime resident of Rhode Island, Catherine Imbriglio received an MA in creative writing in 1988 and a PhD in English and American literature in 1995 from Brown University. Her collection of poems Parts of the Mass (2007) won the 2008 Norma Farber First Book Award from the Poetry Society of America. A second volume, Intimacy (Center for Literary Publishing, 2013), was awarded the Colorado Prize for Poetry. Her poems have been published in The Iowa Anthology of New American Poetries (2004) as well as the journals Conjunctions, Denver Quarterly, and American Letters & Commentary.
[It would be neat if with the New Year]
for Miguel
It would be neat if with the New Year
I could leave my loneliness behind with the old year.
My leathery loneliness an old pair of work boots
my dog vigorously head-shakes back and forth in its jaws,
chews on for hours every day in my front yard—
rain, sun, snow, or wind
in bare feet, pondering my poem,
I'd look out my window and see that dirty pair of boots in the yard.
But my happiness depends so much on wearing those boots.
At the end of my day
while I'm in a chair listening to a Mexican corrido
I stare at my boots appreciating:
all the wrong roads we've taken, all the drug and whiskey houses
we've visited, and as the Mexican singer wails his pain,
I smile at my boots, understanding every note in his voice,
and strangers, when they see my boots rocking back and forth on my
feet
keeping beat to the song, see how
my boots are scuffed, tooth-marked, worn-soled.
I keep wearing them because they fit so good
and I need them, especially when I love so hard,
where I go up those boulder strewn trails,
where flowers crack rocks in their defiant love for the light.
Free Writing prompt:
All the roads taken.