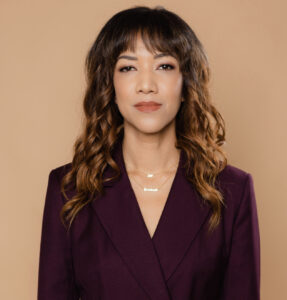 My Therapist Wants to Know about My Relationship to Work
I hustle
           upstream.
I grasp.
           I grind.
I control & panic. Poke
balloons in my chest,
always popping there,
always my thoughts thump,
thump. I snooze — wake & go
boom. All day, like this I short
my breath. I scroll & scroll.
I see what you wrote — I like.
I heart. My thumb, so tired.
My head bent down, but not
in prayer, heavy from the looking.
I see your face, your phone-lit
faces. I tap your food, two times
for more hearts. I retweet.
I email: yes & yes & yes.
Then I cry & need to say: no-no-no.
Why does it take so long to reply?
I FOMO & shout. I read. I never
enough. New book. New post.
New ping. A new tab, then another.
Papers on the floor, scattered & stacked.
So many journals, unbroken white spines,
waiting. Did you hear that new new?
I start to text back. Ellipsis, then I forget.
I balk. I lazy the bed. I wallow when I write.
I truth when I lie. I throw a book
when a poem undoes me. I underline
Clifton: today we are possible. I start
from image. I begin with Phillis Wheatley.
I begin with Phillis Wheatley. I begin
with Phillis Wheatley reaching for coal.
I start with a napkin, receipt, or my hand.
I muscle memory. I stutter the page. I fail.
Hit delete — scratch out one more line. I sonnet,
then break form. I make tea, use two bags.
Rooibos again. I bathe now. Epsom salt.
No books or phone. Just water & the sound
of water filling, glory — be my buoyant body,
bowl of me. Yes, lavender, more bubbles
& bath bomb, of course some candles too.
All alone with Coltrane. My favorite, "Naima,"
for his wife, now for me, inside my own womb.
Again, I child back. I float. I sing. I simple
& humble. Eyes close. I low my voice,
was it a psalm? Don't know. But I stopped.
Reflective writing prompt
Write about the hustle upstream.